Dutch Floral Design training
Individual & personal Dutch floral design training for all level florists  teachers & floraholics.
Do you want to boost your creative floral spirit in Holland with our Dutch floral design training?
Week Training

In this 4.5 day week training Creative Dutch floral design training you can
explore new designs and techniques in flower design, work with the best floral materials the Dutch flower industry has to offer.
get personal  training with instant feedback  from a Dutch Master Florist and International coach.
boost your creativity by exploring new techniques and designs !
Practice and create
different  handtied bouquets classical and modern style
 practice experimental and contemporary designs
trendy wrist corsage & floral juwelery
garden table decorations
parallel design
interesting small designs
Additionally:

You will get handy tips and tricks of the trade; make an excursion to the worlds largest flower auction were you will be adviced on how to select the best flowers for your designs. Moreover you will have the opportunity to buy products of the trade at wholesale pricesf to ship home for use in your business.
Further training for more experienced floral designers and teachers:

This course gives you new ideas and technical skills to look at materials differently. Select your training wishes from our bucket list.
Create new objects and after this course you will be inspired for new designs back home.
Work with different materials like wood, rubber, branches, roots, paper, fabric, felt, wire combined with special flowers and greens.
Create multi purpose designs for the body. Head and hair pieces, wrist & armcorsages.
Diny will share her experience with fashion shows and show you her dresses with secret pockets for flowers and lots more!!
Amaze yourself and your clients and colleague's and students.
This course involves several training sessions or training weeks depending on your needs.
Training fee :
1 week training  € 975.–
2 week training € 1799.–
3 week training € 2250.–
These fees include: Personal training guide, all materials, field trips, certificate, study book.
Accomodation options:
Homestay: Private room in a home in the historical center of Gouda.
Breakfast and lunch included and 3 evening meals on request.
Shared bathroom and lovely garden.
Price: € 350,– for 6 nights.
or Best Western Hotel Gouda or any other hotel of your choice.
Blomatelier Certificate
At the end of the training participants of either course will receive a certificate of the different designs learned. This certificate will also mention extra experience each person has achieved such as  buying at the wholesalers, gaining experience in company contracts and special floral projects.
Please  Contact Diny Blom to discuss your wishes. She will be very pleased to help organise the best situation for you.
Your trainer: Dutch Master Florist Diny Blom
Diny Blom is a dynamic coach, who not only enjoys teaching her extensive knowledge of floral design but who is also a true people's person. She has judged many floral competitions, as a certified European Judge Floristry.
Diny has a passion for inspiring people by sharing her value for Dutch arts, culture and food. Her broad experience in leading flowershops and hotels around the world help her to understand different cultures.
She helps people to make important events more meaningful through her floral creations and through teaching floral design, both for Dutch and international students. As a master-florist she only works with the best materials.
Read more about Diny Blom.
Other floral design training possibility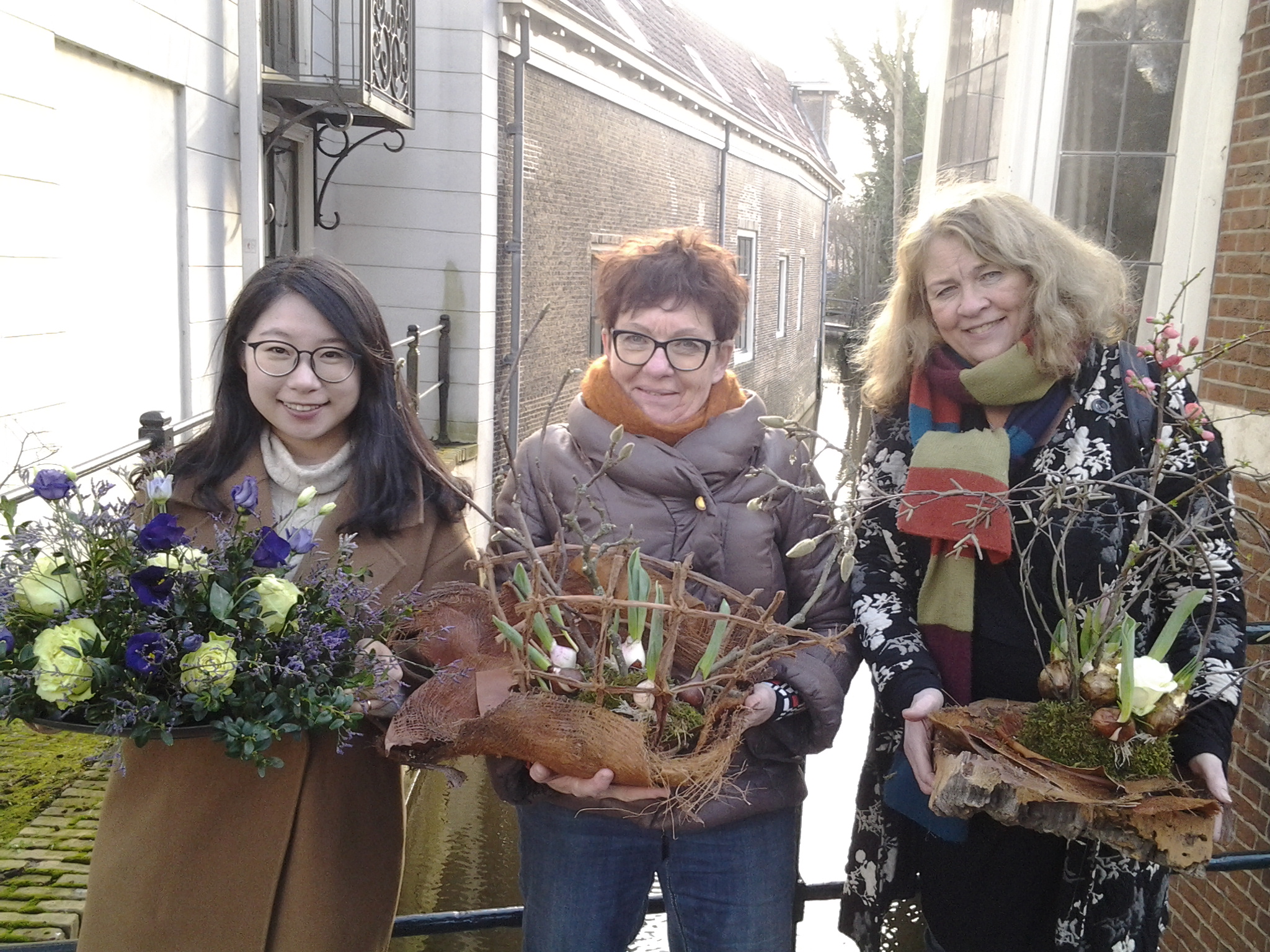 FLORAL DESIGN BUCKET LIST
Would you like to trigger your creative floral spirit? Below inspiring topics to study. Let Diny know your bucket list and together we design your ideal training week.
A. Dutch Floral Design Training modern style
B. Unique wedding designs
C. Fashion floral design for catwalk & shows
D. Party & flower decoration for table
E. Handtied bouquets classical with a modern twist.
F. Creative shop designs small & medium size.
G. Modern floral objects .
H. Interesting European trend designs .
I. Unique interior designs.
J. Large show- design as eyecatchers for events.
K. Weddingbouquets, wired, handtied , glueing or combined techniques .
L.. Wall and space decorations.
M. Trendy corsages arm,shoulder, hair.
N. Edible flowerdesigns.
O. Wall decorations.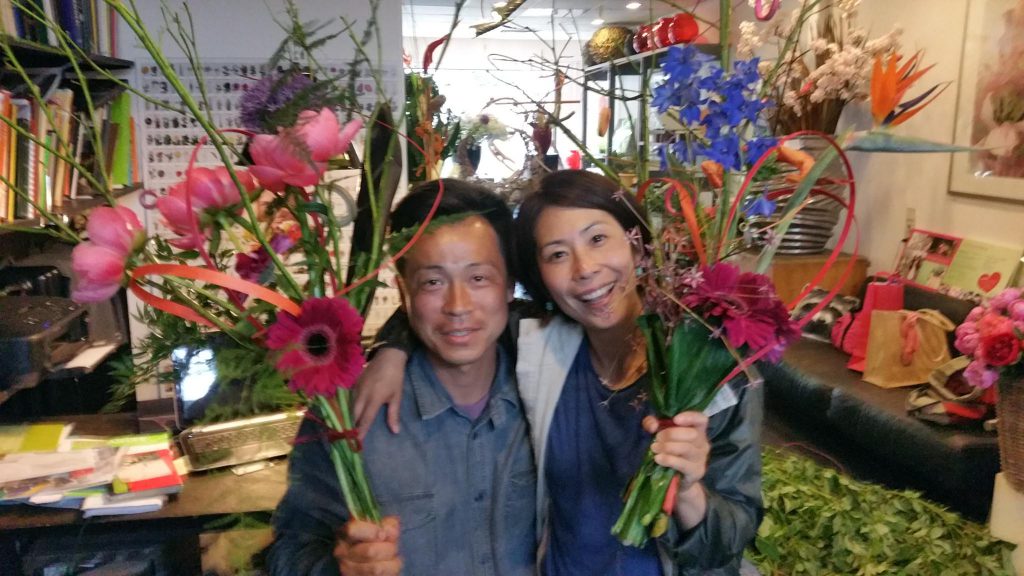 Thank you so much for teaching and inspiring me these 3 weeks. I am ready for a new career in floristry now.
Let's make a plan for your weektraining!

If you are interested in the weektraining creative international floral design please get in touch and share your goals, wishes and preferred study period.