Discover the secret of creative Dutch Flower Arranger!
DUTCH FLOWER STYLIST COURSE  DFA1 system.
Are you dreaming about a career in floristry?

But you are not sure if this is possible at a regular school and seeking personal training in your available time and you might consider a career change to work on your creative side!
The succes formula of Blomatelier in personal training is aimed at preparing beginner florists for the workplace.
This Floral Design method in the DFA are the best basics you can learn Dutch Master Florist Diny Blom and experienced European Judge Floristry  She was born between flowers. Diny  worked at top flowershops , schools and hotels all over the world and has been coaching over 43 nationalities at Blomatelier. She will make sure that you will develop your personal creativity and skills.
The secret of  floral design basics
In this course, we use the method and books of DFA (Dutch Flower Arranger) and our own Blomatelier flower guide as a guideline.
All subjects from the Matrix will be taught beside some trends and new aspects of the trade like sustainability and how to take care of mother nature in 2021.
Topics are all types of handtied bouquets, weddingbouquet and floral designs, corsages and bodydecorations, bowl arrangements, wall decoration, cardecoration, contemporary designs, classical table arrangements, funeral designs, plant arrangements..etc.
all types of hand tied bouquets, wedding bouquets, corsages and body decorations, funeral designs, and good basics from the matrix.
Join our fantastic fieldtrips
to the worlds largest auction in Aalsmeer and wholesalers
selecting your own flowers at  Plantion wholesalercenter in Ede
cycling experience at the National Park Hoge Veluwe and Kroller Muller Museum with worlds largest Van Gogh Collection
Explore your own creativity by assisting on weddings and projects on demand.
Preparation 2 evenings for exam in Alkmaar.
Amsterdam tour to Hermitage Museum and top flowershops
TRAINING SESSIONS
The training for the exam is a 30 training sessions of 3 – 4 hours and 10 extra days including fieldtrips, examination training and test exam towards the final exam.days . You also need to study the books at home and learn flowernames .   The more you study the better results you will have, and the more fun.
Floral Design Certification with Clusius College Alkmaar
Blomatelier has a joint venture with one of the best Flowerschools Holland has to offer. Teacher Stef is coaching you with Diny towards your exam.
Dutch Flower STylist Course  (DFA system)   exam takes place at the famous Clusius College in Alkmaar together with other Dutch students in Mai June or July  2021. ( Due to Corona we cannot plan the date yet).
Most of the  training will be held at Blomatelier, however some of the preparation towards the exam will take place at Alkmaar .
Blomatelier has a unique concept!
Training at Blomatelier is more than going to a flower school. People of at least 39 different nationalities have already come and studied with Diny Blom. Her drive, expertise and creative enthusiasm have led many students to a higher level of floral design.
Beside International Florist Training Center we are an atelier, shop and gallery. We specialise in unique floral designs for  weddings, funerals and companies. We are also well known for our inspiring workshops and fashion flower events and amazing fieldtrips. Sometimes Diny will offer you the opportunity to join in and gain extra practical and creative experience.
Contact Diny by email or direct on her cell phone if you have any questions or bookings. It is also possible to come  without taking  the exam but learning from your own bucketlist. And including a certificate with all the studied objects and tasks

Training at Blomatelier changed my life and feel that we are soulmates in floristry, your coaching made me grow so much.
Start your flower career now !
OUR CORONA RULES. PERSONAL TRAINING AND COACHING FOR 1 till 3 STUDENTS MAXIMUM DAILY!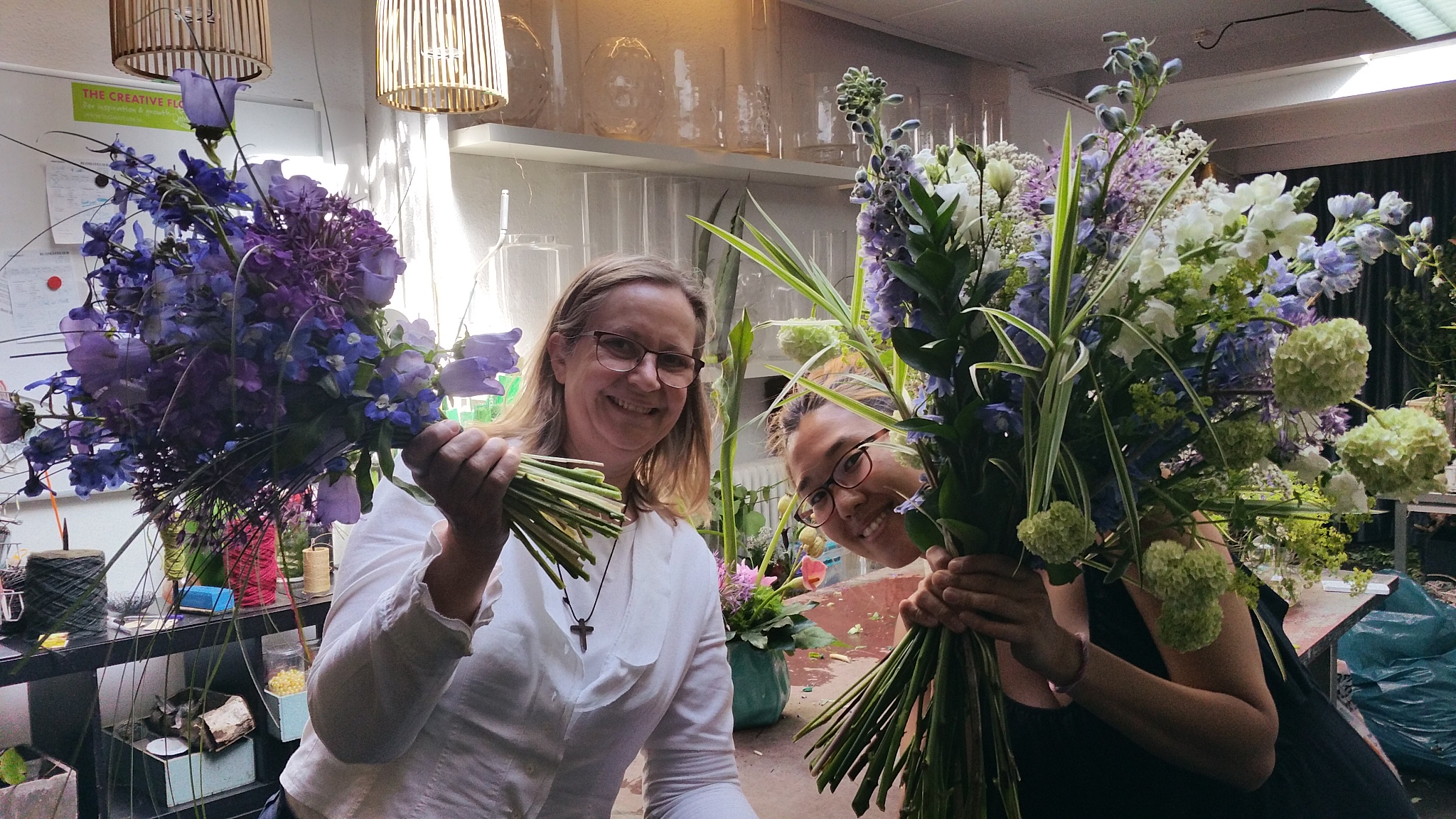 Diny sensei, my DFA/ life Coach, I can't find perfect words how much I appreciate you. Beside floral design you also taught me to enjoy Dutch life in Corona time and organised a special exam for me on JUne 11 2020 and I graduated.