How to become Dutch florist:
DUTCH FLOWER ARRANGER COURSE DFA1
Are you a beginner in floral design?
In this individual floral design basics course that is based on the Dutch Flower Arranger course (DFA1) Master Florist Diny Blom teaches you all the basic skills you need as a professional florist and flower arranger. As a beginner or enthousiastic you will develop your personal creativity and skills. This training is aimed at preparing beginner florists for the workplace. So if you are considering a career change into floristry, this is your chance!
Content of training – floral design basics
In this course we use the method and books of DFA (Dutch Flower Arranger) and our own Blomatelier flowerguide as a guideline.
For beginners the following DFA  subjects will  be taught:
vase and/or plate arrangement
table decoration
sympathy arrangement
bridal bouquets
hand-tied bouquets
Creative extra Blomexperience!
Apart from these basic DFA skills you will also:
Train new techniques such as wiring, pinning and gluing.
Study flower names at the flower auction and learn all the tricks and tips of the trade and buying at wholesalers.
Visit trendy florists & flower events
Explore your own creativity by assisting on weddings and projects on demand.
The training consists 2 sessions of 20 lessons and 10 extra practice days in a Dutch Flowershop.  The more you study the better results you will have.
Floral Design Certification
Flower Arranger (DFA) 1 exam takes place at the famous Clusius College in Alkmaar together with other Dutch students in July 2019.
Most of the  training will be held at Blomatelier, however some of the preparation towards the exam will take place at Alkmaar in May / June/ July. Blomatelier certificate
After 20 lessons you will be tested on all the subjects you have studied and will receive a certificate. As a certified European Judge Floristry Diny Blom will coach you towards this exam and help you to achieve the next level. This certificate will also mention all the extra experience you have achieved.
More than a flower school!
Training at Blomatelier is more than going to a flower school. People of at least 31 different nationalities have already come and studied with Diny Blom. Her drive, expertise and creative enthusiasm have led many students to a higher level of floral design.
Beside International Florist Training Center we are an atelier, shop and gallery. We specialise in unique floral designs for  weddings, funerals and companies. We are also well known for our inspiring workshops and fashion flower events and catwalks. Sometimes Diny will offer you the opportunity to join in and gain extra practical and creative experience.Languages
It is necessary that students speak (some) English, German or Dutch. Diny will help you to train your Dutch and English if you want.
Training fee
The fee is in 3 terms and it is possible to do exam in July 2019 or spread the training over a longer period and do exam in July 2020.
Term 1. The fee for 20 lessons Floral Design Basics, including  handout, flower guide, all materials, excursions and extra creative experience, use of containers,and certificate is € 2250.–.
Term 2 and 3. If you would like to train for the DFA 1 exam, you have to take part in an additional 20 lessons and 1 week examination training at the Clusius College Alkmaar from June 25 till the exam on July 3rd 2019.
Costs Term 2.  € 2750.– for training  at Blomatelier Term 3.  1 week examination training at the Clusius Alkmaar including all materials , lesson and exam € 1500.–.
Total payment € 6500.– and if you wish to take exam in 2019 and you passed the intake we can give you a discount of € 250.–.
Monthly installments can be organised.
The € 1500.– examfee to be paid directly to the Clusius College before July 1 2019.
Contact Diny by email or direct on her cell phone if you have any questions or bookings.
Diny thank you so much that I am a DFA1 graduate now! Will miss your weekly saturday training !
Start your flower career now !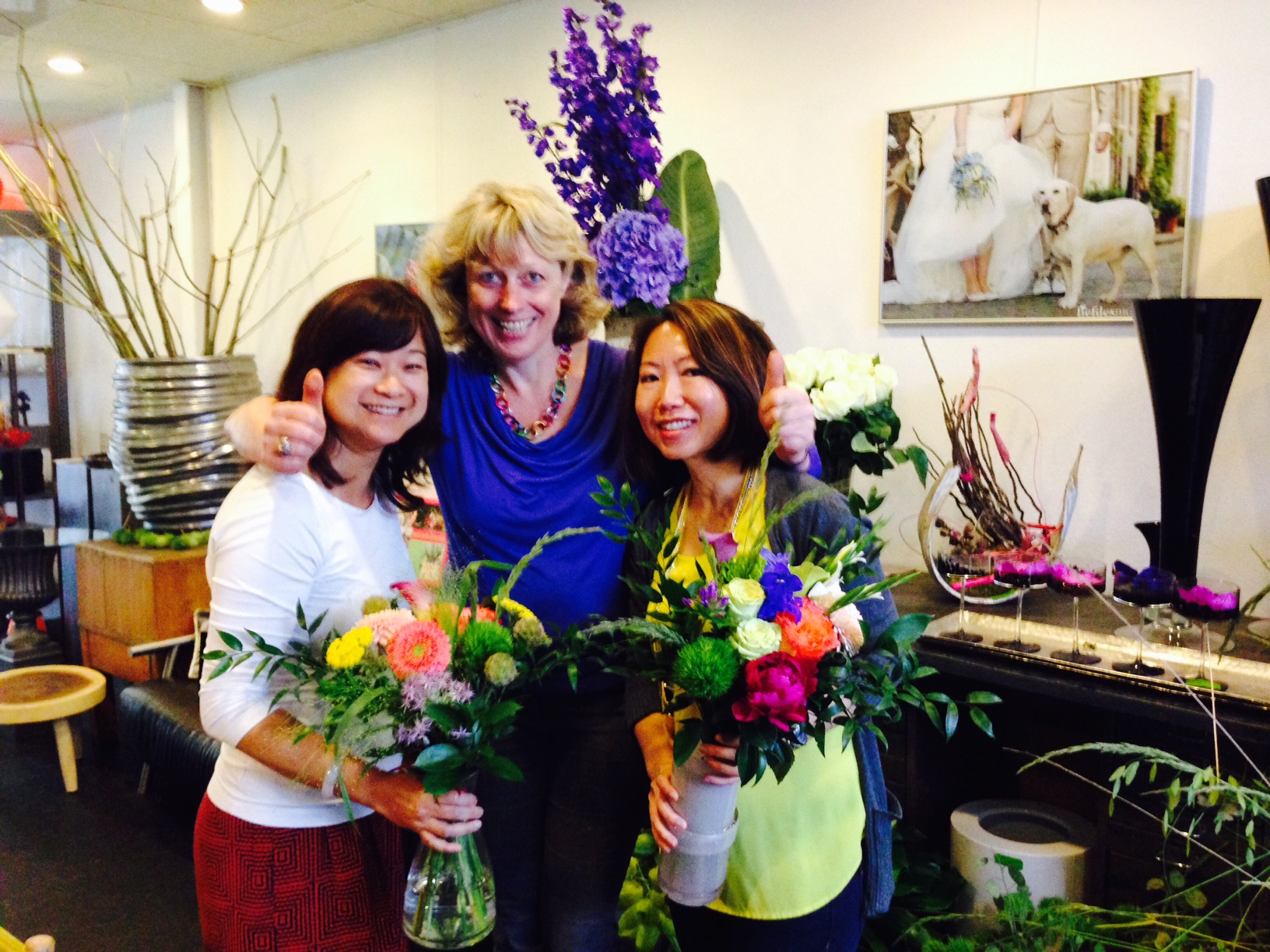 Diny thanks for your wonderful coachingskills . I feel so much more confident now to start my own floral studio in Taiwan.